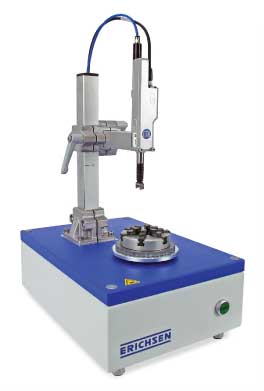 Erichsen is a modern innovative company that has been providing a wide range of testing machines and equipment for over 100 years. They serve the sheet metal processing, surface coating, anti-corrosion and materials testing industries.
Their products meet global requirements on testing technology and exceed international demands on accuracy.
Pearson Panke offers re-calibration and certification services for Erichsen testing machines as well as instruments and machines from other manufacturers.
Sheet metal testing:
Deep Drawing Test, Sheet Metal Marking, Specimen Preparation
Surface testing
Formability of Coating Material, Viscosity and consistency,
Density
Electrical properties of paints, Grain Size and Pigment Dispersion, Opacity and hiding power, Film application
Drying
Film thickness, Flexibility, Adhesion, Impact Resistance.
Hardness
Abrasion resistance and scrub ability, Chalking, Gloss, Colorimetry, Brightness, Porosity, Surface Inspection, Physical
Measurement
Corrosion testing
Salt spray (fog) and condensation tests, Weathering tests, Specimen preparation, Corrosion Quick Test
Materials testing
Material Testing Machines, Mobile Measuring Systems, Electric Sensors, Hydraulic Measuring Systems.
CONTACT US
Head Office
Phone: +44 (0)20 8959 3232
Fax: +44 (0)20 8959 5613
FINANCE
Lease Rental and Lease Purchase arrangements are available for most client purchases. We also offer credit card payment options. Click here for further Finance information or contact our office to discuss any payment options you may require.